"The sustainability of the wooden musical instrument is totally dependent on a respected biodiversity"
Last update, April 03, 2021: The action plan of the luthiers of the APLG for the preservation of forests is presented in several short and long term stages.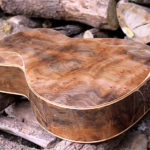 In the short term, actions have already been taken such as:
– the development of the management of the provision of lutherie wood from our regions through a pilot project in Bourgogne Franche-Comté,
– broadening the luthier's knowledge of the world of woods (taxonomy, anatomy, state of health and regulations of the species).
To this should be added a communication work to make known to the actors of the wood sector, the active presence of the trades of the manufacture of musical instruments.
To these actions on the ground, the APLG also wishes to suggest action levers to as many people as possible, with the first example of citizen acquisition of forests in order to preserve biodiversity in the face of industrial exploitation of forest habitats.
In the long term, and even if its role and ambition is not to become a forest manager, the APLG wishes to be an active player in the renewal and preservation of forests. The association is already involved in planting projects, but we are well aware that its impact will be minimal. It is therefore also by working in the short term on a communication plan to convince as many people as possible to follow these initiatives that such projects will have meaning and a real impact on the overall management of the wood resource.
Five-step short-term axis

Harvesting local or imported timber must be conditioned by certain very specific criteria in order to respect the renewal of the species collected.
All the actions carried out in the short term will allow us to regularly draw up assessments and areas for improvement and must participate in the establishment of a framework of principles to be followed over the long term.
The work to be carried out in the long term cannot be undertaken by the APLG alone, other professional organizations in the instrument making will be invited to act, just as we are doing, in France, but also in Europe and internationally. .
The other wood craft sectors will also be contacted as soon as the first pilot projects of the short-term axis are set up.
Local wood: Take stock of the state of the resource of lutherie wood by species and by range. For France, see the work of RENECOFOR by the ONF, which is a national network for long-term monitoring of forest ecosystems and which makes it possible to identify the habitats and threats of tree species in France: www. onf.fr/renecofor. The work to be done on the local species of lutherie wood:

Establish its state of health, its area (hectare, volume and number of trees)
Identify mature trees and ready to cut, the corresponding volume of wood
Identify all sectors of the wood industry consuming this species

Imported wood: Take stock of the state of the resource of lutherie wood by species, by distribution area. Use existing tools:

UICN Red list, list of threatened species
Species+: list of CITES species and other multilateral environmental agreements

Imported and local wood: Estimate a plan for planting trees of certain species over a given period (5 years, 10 years, etc.) depending on:

A forecast of demand from the sectors of the wood industry;
A precise mapping of the available resource;
Monitoring of the health of the species;
Avoid monospecific crops by favoring mixtures of species to preserve biodiversity;
Adapted the species to be planted to climate change;